Product Manufacturing Services
End-to-end product manufacturing service that exceed customer expectations
We've been developing, manufacturing, maintaining and servicing technology-enabled products across a range of industries for more than 20 years. We are based just north of Cambridge, ideally located to fulfil manufacturing projects on behalf of high tech companies, no matter how complicated.
Our technical team, whom collectively boast over 100 years' experience in the technology and engineering verticals, have taken some of the most ground-breaking inventions to market on behalf of our customers.
We take full responsibility for your product lifecycle from the outset, carrying out rigorous, testing, validating and documenting processes along the way, giving you the assurance that your product is developed, manufactured and serviced in accordance with current regulatory standards.
Explore the links above to find out more about the Nexus service.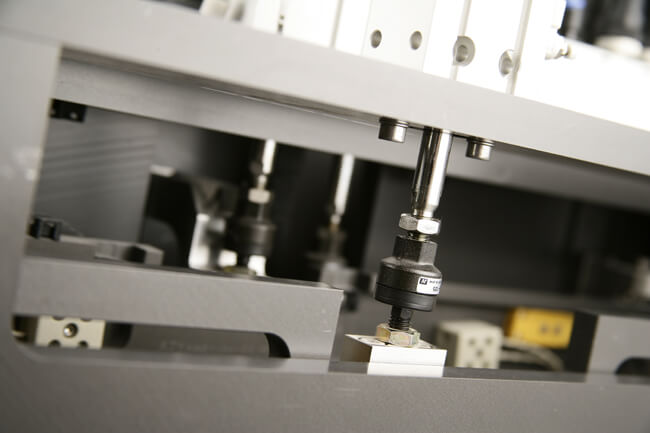 Design
Almost all product lifecycle costs are incurred at the design and prototyping stages so getting your product design and specification right from the outset saves time and resource and minimises commercial risk later.
Our experienced designers work with your team to produce an accurate URS (User Requirement Specification) before developing product prototype for testing and evaluation purposes, thus ensuring your finished product is fit for purpose, meets the requirements of its intended use and is fully optimized for efficient manufacture. We will carefully document all design and specification processes as well as the components used, giving you a complete audit trail and traceability.
By following meticulous product design and development processes, we are able to manufacture sophisticated technology-enabled products in the shortest timeframe, without compromising on quality, functionality or performance.

Develop
Taking technical innovations to market, on time and on budget
Validation
Poorly executed projects will leave your businesses wide open to exposure because failure to think through the key development stages, or to protect your ideas can result in expensive consequences.
Our "intelligent engineering" approach to product development will ensure this does not apply to you.  We have the skillset needed to quickly understand your product concept, its intended functionality and target audience, as well as the experience and knowhow to take your technical innovations to market on time and on budget.
We also understand the importance of protecting your IP and that the key to your success lies in its profitable implementation. Our flexible workshop facilities have been specifically designed to adapt to changing job profiles and can be easily partitioned into secure off-work areas to contain individual projects and maintain total confidentiality.
Our product development service aims to support your innovation – making you ready for manufacturing

Build
The smart approach to product manufacturing
Taking a new product to market is not always plain sailing and a successful product development project is dependant of finding a trustworthy partner who is passionate about your idea and who cares about precision and quality.
Our team of dedicated engineers will provide you with impartial advice, insight and support. They will work closely with your designers to accurately interpret your drawings and electrical schematics, making sure your final product is fit for purpose, sustainable and suitable for manufacturing.
We want you to see us at Nexus IE as an extension of your team which is why we strive to build transparent and open relationships with all our clients. The location of our award winning UK based innovation centre allows you to stay in control and be as involved in the process as you choose to be.
Our flexible batch manufacturing approach produces your product when and where you and or your customers need it
Purpose-built facilities
Our shop floor has been designed to be adaptable and scalable to accommodate our clients' changing work profiles. Our workshop, for example, can easily be configured into screened off areas to contain individual customer projects, thus maintaining client confidentiality from other visitors.
We allocate an experienced project manager to your project to make sure timescales are adhered to, plan and execute all aspects of the build. Communication is the key to a successful partnership and your project manager will ensure your priorities maintained.
For your convenience, we provide you with access to our data storage area, where you can upload, store and share CAD files, bills of materials, electrical schematics, integration and testing protocols in a secure confidential environment.
Testing and Compliance
Testing your product prototype thoroughly before going to production saves you valuable time and resources. Our team of experienced engineers are highly proficient in designing and planning rigorous testing protocols and will work closely with you to develop a process that is applicable to your product.
ISO 9001 Compliant
Many of our clients operate in highly-regulated markets where traceability and conformity is critical to quality. Our comprehensive QA systems and processes ensures this is always adhered to with a complete audit trail. Put simply, we know: what we build, when it was built and how it was built for every product.
Shipping
With a many years' experience of global shipping we can arrange appropriate shipping boxes or crates to ensure your products arrive at their final destination in pristine condition. We will also handle all the logistics on your behalf using a well-established brokerage for the most cost effective routes to your destinations.

Support
Taking pride in delivering a personalized service to our and your customers at all times
As well as taking full responsibility for your development and manufacturing requirements, we also offer comprehensive installation, training, maintenance and support services. We manage all aspects of your product servicing and maintenance, whilst providing customer feedback to enable further product development
Our experienced engineers that worked with you during the building and testing stages will also be responsible for installing your products and training users, ensuring that all after sales services are delivered with the same high standards of quality, precision, passion and intelligence.
Installation and training
We are well versed in working in highly regulated environments, and as a result, all our installation and training processes have been carefully compiled to be applicable to your specific product, providing you with the confidence that every stage of the process is fit for purpose and robustly managed.
When new equipment is delivered, there is an inevitable learning curve from a user perspective. Whether you've arranged for onsite training to be provided on installation, or simply requested an out of the box solution with written instructions, we understand that everyone learns at a different pace. We will work with you understand the type of ongoing support you may need and this is often a good opportunity to analyse your support requests for design or user manual improvement.
Maintenance and support
Because we've been involved with your project from the outset we have an in-depth understanding of the type of support that you might need. This comprehensive level of understanding, combined with our rapid response times, enables us to proactively work with you and your team to resolve any potential issues swiftly, thus minimising risk and downtime.
Our high standards of support also go way beyond servicing your equipment. We offer comprehensive training packages, with onsite and e/learning options, knowledge transfer, troubleshooting facilities and a range of other services to help you maximise your investment.
We offer different types of service, depending on your needs, including:
Preventative maintenance agreements for servicing equipment at regular intervals
Onsite visits in the event of equipment breakdown (if we cannot resolve the situation remotely)
We also provide a spare parts service either for warranty purposes, consumable items, repairs or optional extras. We have a daily courier collection for worldwide deliveries.